Mindray ultrasound — what top U.S. hospitals have in common
U.S. News & World Report, one of the most authoritative ranking organizations in the U.S., has released the 2017-2018 Best Hospitals Honor Roll recognizing the top 20 hospitals in the state. One fact we find especially heartening about the ranking list is that, out of the 20 best medical institutions, 19 have their emergency departments, ICUs and departments of anesthesiology underpinned by the same technical force – Mindray ultrasound solutions.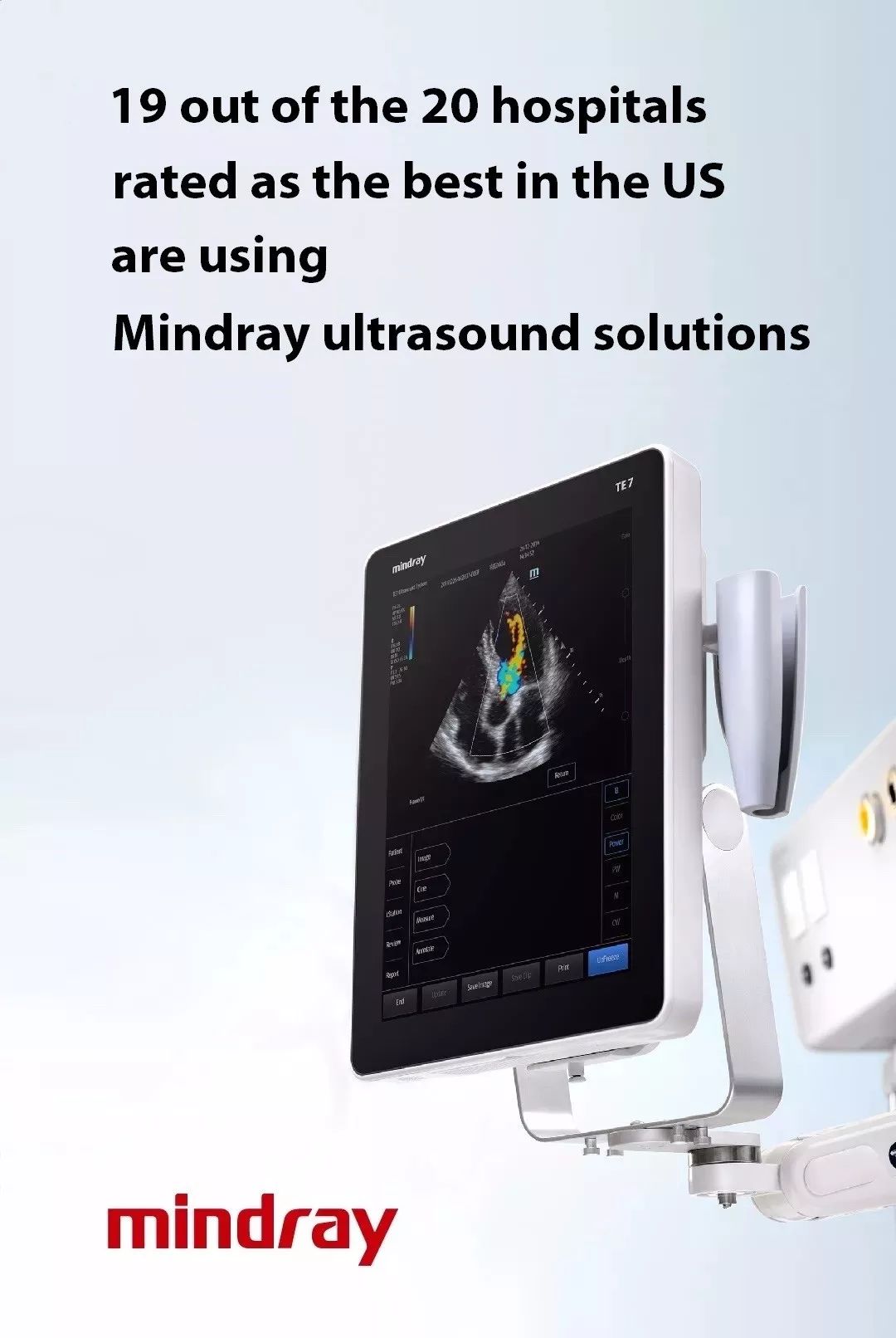 2017-2018 Best Hospitals Honor Roll
Starting publishing hospital rankings in 1990, U.S. News & World Report has earned a nationwide reputation for the role it plays in helping people narrow their search for hospitals that best match their needs. The annually updated lists have been serving as an important reference for both patients and medical practitioners. Any hospital that earns a place on the Best Hospitals Honor Roll is literally one in a thousand. Let's take a look at these top performers:

The ranking was based on a massive amount of objective data as well as extensive surveys to make sure the results fully reflect the hospitals' capability in delivering exceptional treatment across multiple areas of care. More than 4,500 medical centers nationwide were compared in 16 areas of complex specialty care and also rated in nine bellwether procedures and conditions.

In four of the specialties, the hospitals were ranked according to physician specialists' response in surveys while for the other 12, the ratings were based on a methodology involving four factors of different weightings as shown below.
Elements evaluated in the 12 data-driven specialties
Of all the hospitals rated, the Mayo Clinic ranked No. 1 in 6 specialties and topped the Honor Roll with the highest total score of 415 points. The Cleveland Clinic took the second place, followed by Johns Hopkins Hospital at No. 3.
The choice of best hospitals
Outstanding medical institutions like those on the Honor Roll have extremely demanding standards for the technologies, workflows and quality of medical devices to ensure precision, safety and efficiency in clinical diagnosis. The coincidence that 19 out of the 20 hospitals picked Mindray's ultrasound solutions may seem surprising but is actually no accident at all.
Combining state-of-the-art imaging expertise, intelligent applications tailored to clinical needs and optimized interactive design, Mindray ultrasound has long gained popularity among healthcare institutions in the U.S. and become the top pick of numerous clinical departments.

Mindray TE7, a game-changing ultrasound system, garnered the third largest market share in the U.S. POC (point-of-care) segment in as early as 2016, according to the annual report of iData Research.
Moreover, it's not only in North America that Mindray TE7 has won wide recognition from clinical experts. Similar feedback is also received from medical centers in Australia, Europe, Asia, and more regions of the globe, demonstrating the smart system's superior capability to insightfully address the common imaging needs of worldwide clinicians.
Redefine the POC
An excellent integration of simplified workflow, fast response and supreme image quality designed to enhance diagnostic confidence at the point of care, TE7 provides clinicians with the accuracy and simplicity they need for fast, real-time decision-making.
Multiple proprietary technologies, including PSHTM (Phase Shift Harmonic Imaging), 3T transducer technology, iClearTM auto structure detection and more, are employed to ensure superb imaging performance with more clarity and less noise.
The 15-inch gesture-enabled touch screen along with intuitive interface and targeted exam presets saves doctors the bother of learning complicated keyboard and system controls. Plus, it can be easily mounted either on the ergonomic cart for portability or on a wall for a wide viewing angle.

Easy to transport and store with its slim profile and versatile in a wide array of clinical uses including emergency medicine, anesthesia, pain management, critical care and musculoskeletal bedside examinations, TE7 makes an exceptionally helpful and flexible assistant in diversified applications. Fast wakeup, iVocal voice control, one-touch image optimization and more thoughtful details are integrated for speed, imaging quality and ease of use.
The Hennepin County Medical Center (HCMC), a Level I trauma center providing highest level of surgical care to trauma patients, is among the American hospitals equipped with Mindray TE7. The facility was once overburdened with heavy workload as most well-received hospitals are.
With the introduction of Mindray TE7, the doctors and nurses have witnessed remarkable changes in ultrasound use and experienced convenience as well as diagnostic confidence the smart system has brought to the hospital.

TE7 serving the ED of HCMC
"The TE7 system is now mounted on the walls in several of our pods. It has become our system of choice with an easy-to-use interface, outstanding image quality, and fast response times," said Dr. Plummer, MD, Assistant Chief of Emergency Medicine.
Robert Reardon, Medical Director, with TE7 in HCMC
Progress together
with medical experts
By winning recognition of its high-end medical devices from top-notch hospitals that are globally renowned for their advanced technologies and expertise, Mindray builds a powerful alliance with clinical experts and institutions at the cutting edge of healthcare development.
Mindray believes medical expertise is at the heart of healthcare. It is the knowledge, skills and experience of medical professionals that are key to advancing innovation. Mindray works hand-in-hand with medical clinicians, to ensure our solutions are truly intelligent, relevant and accessible. We share clinical expertise with the world, to envision more possibilities in healthcare.